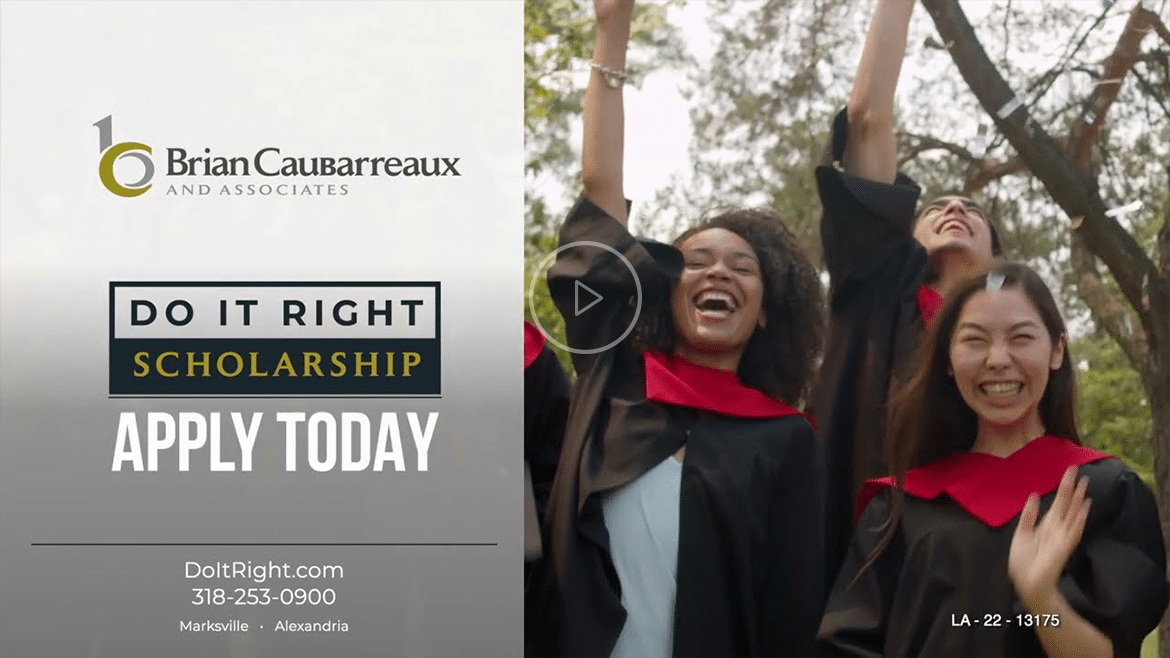 Attorney Brian Caubarreaux of Brian Caubarreaux and Associates has created the "Do It Right" Scholarship to provide assistance to those striving for a better tomorrow.
While growing up in Avoyelles parish, Brian learned many life lessons from his dad, who was a part of the working class. The lesson that stuck with him the most was to always do things the right way. Brian has built a well-respected reputation for himself and his firm based on this principle.
Brian started this scholarship to help those in need succeed. He knows that not everyone has the chance to do things right the first time, so he's giving them the chance to do things right this time.
The Do It Right Scholarship is for the young guy in high school who aspires to be an automotive technician, but can never afford college. It's for the single mom who dreams of becoming a nurse, but can't juggle both tuition and childcare. It's for the neighbor who just got laid off and can't support his family. It's for the woman you know who always puts others first, but only makes just enough to scrape by.
Look around. It's time for these individuals to get a leg up on life. Now they can.
The Brian Caubarreaux Do It Right Scholarship is awarded to individuals on a needs-based merit by an independent panel of community leaders, based on a combination of attributes such as the student performance, drive, and ability required to develop a career and technical education from Central Louisiana Technical Community College. CLTCC offers two-year associate degrees, as well as certificates and diplomas in practical occupations. Students can study various fields such as Automotive Technology, Business Office Administration, Criminal Justice, Practical Nursing and Welding. Armed with a college education, these individuals will have the opportunity to thrive and will no longer have to spend their days wondering what could have been.
Do you know an individual who deserves the Do It Right Scholarship? If so, please tell them about this life changing opportunity today. You can also email the Brian Caubarreaux and Associates law office at info@caubarreaux.com or give them a call at 318-253-0900.
BRIAN CAUBARREAUX SCHOLARSHIP