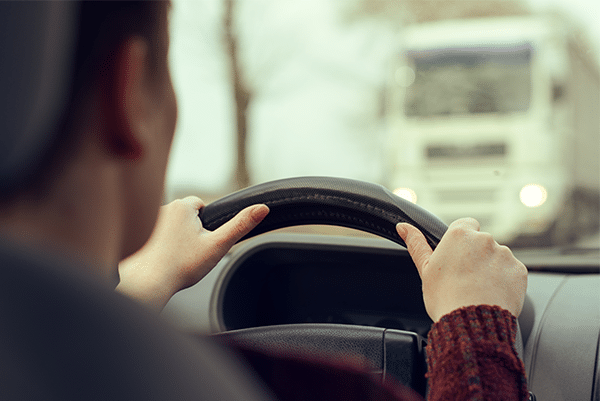 Big Rig Accidents
You're driving on the road late at night. You notice the bright lights of a large 18-wheeler approaching from behind. As you slow to stop at a red light, you notice they aren't. You punch the gas, turn the wheel and to try and get out of the way.
But it's too late…
The Facts:
Every year, there are around half a million "big rig" accidents across the US.
The death rates from big rig accidents outweigh that of any other type of motor vehicle accident.
It is estimated that 5,000 people die every year from big rig accidents.
Insurance company lawyers do all they can to not make mistakes.
So should your lawyer.
In the truck driving profession, time is money, and that can lead to shortcuts. Shortcuts lead to mistakes. And just one mistake could cost you millions.*
Accidents involving big rigs are often caused by the following:
      Driver fatigue

      Negligent truck maintenance

      Overloading or shifting loads

      Driving under the influence of drugs or alcohol

      Failure to comply with safety regulations

      Debris or obstructions in the roadway

      Weather
At Brian Caubarreaux & Associates, we take the 'do it right' approach with all our cases. We have years of experience representing clients who are seriously injured in accidents involving large trucks and commercial vehicles. We know exactly what your opponent is going to pull out of his trucker hat. Whether you've been in an accident with a small commercial vehicle like a van, or a much larger commercial vehicle like an 18-wheeler, the attorneys you'll be up against will do all they can to minimize the damages (i.e. your settlement). Don't suffer for the mistakes of others. We'll take the wheel of your case and help steer it in the right direction.
Being involved in a "big rig' accident can completely change your life.
Injuries from these accidents can result in:
      permanent or partial paralysis

      permanent brain damage

      physical and vocational rehabilitation

      temporary or permanent loss of income
With injuries like these, it can be hard to get back on your feet. Brian Caubarreaux & Associates has helped hundreds of people just like you obtain the help and money they deserve. Don't get cheated out of a settlement you know belongs to you. Make sure to select an attorney who is going to do it right. Make sure you call Brian Caubarreaux & Associates.
We're ready for them. Are you?
For a Free Consultation, Call: 318.253.0900 | 318.442.0900
We'll come to your home or your hospital bed, or you can come to our office or meet wherever you like. Whatever the venue, always consult with an attorney before making a commitment. Make sure you ask them what experience they have, if any, in big rig or commercial vehicle related cases. Also ask if the attorney feels you have a case, and make sure they give you the reasons for their answer. A reputable attorney should be honored by your interest in them and be willing to provide the initial consultation at no charge. We certainly do.
At Brian Caubarreaux & Associates, we get to work immediately on investigating your case and preserving evidence while it is still fresh. We check and re-check all the facts, evidence, reports and other information for accuracy. We make sure every "t" is crossed and "i" is dotted.
* Results May Vary